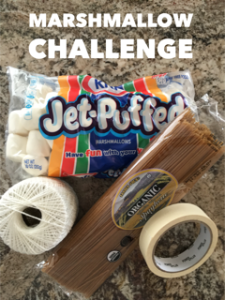 The Marshmallow Challenge is a fun activity that encourages students to work together and to develop strategies in order to solve a complex problem.  I have used the Marshmallow Challenge on the very first day of school and on the second day of school.  However, I believe it also fits in nicely on the day before a long holiday or at any other time that fits your schedule.
The Challenge
Teams of four students are given a marshmallow, 20 pieces of spaghetti, a yard of string, and a yard of tape.  Their task is to create the tallest free-standing structure that can hold the marshmallow on top in a given period of time.  I use 20 minutes in my classroom although the TED Talk video that I will refer you to only suggests 18 minutes.  Use your own judgment on the length of time.
Why Assign the Marshmallow Challenge?
There are a number of reasons why I use the Marshmallow Challenge in my classroom.  First of all, the Marshmallow Challenge is a complex problem that involves the consideration of many factors.  What is the best design structure for the spaghetti tower?  Do students realize the strength of triangles in building structures?  (Don't tell them!)  How should the marshmallow be secured, or should it?  What is the best way to use the tape?  the string?  Are students allowed to tape things to the desk that they are working on?  (I let them.) These factors are similar in nature to the types of questions our students will ask when we present a problem to them in class.
Secondly, I want to see how my students will communicate and work together as a team.  Who steps up as a leader?  Who prefers to listen thoughtfully but is still able to provide valuable input?  Who tries to slide by with as little contribution as possible?  Especially if you decide to implement this activity at the beginning of the school year, you will gain valuable initial insights into the ways that your new students operate.
I am also interested to see what strategies the team devises to complete the Marshmallow Challenge.  As you will see when you watch the video, often students put all of their eggs into one basket by implementing only one strategy and then testing its success seconds before the timer runs out.  This is a recipe for disaster and many groups will end up with their marshmallow at a height of zero inches (sitting on the desk).
Finally, the kids have FUN!!  There is a lot of talk, high energy, and the 20 minutes seem to disappear so quickly. [Read more…]