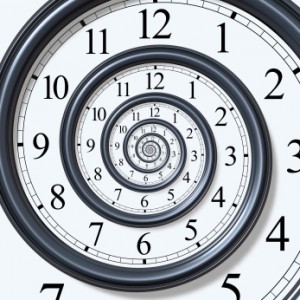 At the beginning of last school year I was in a discussion with my principal about how to raise our state standardized test scores.  I told her that I knew how to raise the scores.  It was simple, really.  As math teachers, we just needed to continuously have students practice the key math concepts covered by the all-powerful state test.  It was all a matter of repetition. 
Now I am not a big fan of teaching to the test but if my boss (the state) has determined that 7th graders are responsible to know a certain body of mathematical knowledge before they leave my classroom, then by-golly I am going to try my best to get them there.
As I shared my keen insight with the principal, she looked at me and asked if I had been talking to our math department chairmen.  I hadn't.  It turns out that we had just decided to purchase a rather expensive daily warmup program to use with our students. 
What would this warmup program do?  It would offer repeated exposure to the most important math concepts in the 7th grade state standards.  These warmups are strongly correlated with the standards, have been field-tested, and proven to increase the results of students on our state test.
Just Common Sense?
This all made perfect sense to me.  If I want my students to know how to use the Pythagorean Theorem to determine the unknown length of one side of a right triangle, it stands to reason that they will be more successful if they have seen the concept 10 times over the course of the year rather than two times.  That's not rocket science.
What I Used To Do
In the past, I have worked hard to teach a concept when it appeared in my curriculum.  Then, a week or two before the test, I had crammed three-quarters of a year's material into a multi-day review session.  That was it.  My students often saw the concepts twice, once when I taught it and once more right before the test.  Needless to say, this was not the most effective way to offer students multiple opportunities to demonstrate mastery of the key math standards.
What I Do Now
Now I spend the first few minutes of each class period giving the students 5 warmup problems that help spiral our state grade-level standards.  Students are given the opportunity to practice using the skills that they have previously learned in the context of the given word problems.  The see the key standards over and over again during the course of the 130-day warmup program. 
Sometimes the students are given problems that we have not yet reached in the sequence of our math text.  As students correct their warmups, I present a brief explanation of the solutions to these problems.  I realize that not every student will master the new concept in that mini-lesson, but some will.  The next time that particualar type of problem is given, more students will be successful than before. 
By the time I taught Pythagorean Theorem last year, my students had no trouble picking out the Pythagorean Triples and using them to solve for the missing side length of a right triangle.  This concept had been presented over and over again in our warmup program.
The Results
My teaching colleague (Jason) and I were discussing our results today.  Even though we did not begin using our new warmup program until about the second semester, our grade level percentage of students that were proficient or advanced on the state standardized test increased by 16% last year.  This was one of the largest increases in our school district.
I realize that our new warmup program was only one factor in the increase of proficient/advanced students, but I know that it was one of the biggest factors in our success.  I like to think that Jason and I, and the rest of our team, did a fantastic job teaching as well.
Why is a Review Program So Influential?
As we discussed this question, Jason said he believed that the repeated practice helped our students to RECOGNIZE different types of problems.  Sometimes students who have strong math skills will still have difficulty applying them to new problem situations.  The warmup program helped our students to experience some of these problem types repeatedly prior to the state test.
Just as a weight lifter has to continuously lift weights to build muscle and increase his performance, so a middle school student will benefit from repeated exposures to the key concepts in our math curriculum.  These review problems, embedded in our teaching throughout the year, keep the concepts fresh in the minds of the students.  As they see the concepts worked over and over again, they naturally improve in these skills.  It's just common sense.
Action Steps
Even if you don't have a commercial warmup program that has been built to spiral your math review throughout the year, there are still several things that you can do.
Include review problems from your text in the assignments you give.  I used to skip these as I thought them irrelevant to that day's lesson.  Now I understand that the publishers put those review problems in for a reason.
Work with your math team to identify the key concepts in each chapter and develop some warmups or review problems that will keep these fresh in your students' minds.  I recently spent a release day working with another teacher on our staff to create some warmups for a different grade level that I teach.  There was no review program for that grade so we began to create one.
See if your state offers "Released Test Questions" to guide you in preparation for your state tests.  Then, try  to spread these out throughout the year rather than cramming them in a short period of time before the test.
The Bottom Line
While we don't want tests to drive our curriculum any more than they already do, state standards have been developed to ensure that each student in a particular grade is given the chance to learn the key mathematics at that grade level.  Assessments are then developed to measure how successfully students master this given curriculum. 
We all need review and repetition to cement the learning of new concepts into our brains.  When new concepts become second nature then we have achieved mastery.  Many student will not achieve mastery based on one or two exposures so we need to find a way to bring powerful, engaging repetition or review to our teaching of mathematics.
If you employ a strong, structured program to continuously review your mathematics curriculum throughout the year,  you will not only experience higher test scores but you will help create more powerful mathematics students in your classroom.
Please share any ideas you would like to add to the conversation in the comment box below.  Thank you!
Note: To eliminate SPAM comments your first post will be moderated but after that comments should appear instantly.
Find DigitalLesson.com on Facebook and Twitter.