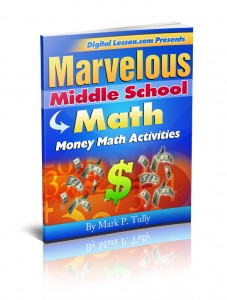 The Money Math Activities eBook is a collection of 4 of our top lessons and projects, organized by topic and available at a substantial savings. This product is a download.
$17.00
Sold separately, these engaging, hands-on lessons and projects retail for $30.00. Click on the links below to visit specific pages describing each math lesson or project in detail and to view Preview Pages.
These fresh, new classroom activities are delivered instantly to your desktop. No shipping charges! Just "Print and Present". These math lessons and projects are standards based and include all blackline masters.  Teacher Tips help you to be successful with the activity the first time you teach it!
Only $17 (Save $13 off the individual price of $30)
(42 Math Lessons, Projects, and Games – 438 pages)
DigitalLesson.com 30-Day Money-Back Guarantee
This will work well in my financial focus section this year. I am attempting to incorporate real math as my students call it. Great product!

– Don L., math teacher
 Select a link below for a detailed description of each activity.
The Stock Market Contest is designed to teach students the basics of investing in the stock market, while reinforcing math skills (percents, decimals, and line graphs). Students enjoy tracking their investments as they root their stocks to win.
The Classroom Money System is a fun, educational way to help manage a classroom and at the same time provide students with the foundational experiences of applying for jobs, holding a job, saving money, spending money, and using a checking accounts. Blackline masters for two sets of money, checks, and a check register are included.
Tipping is a lesson designed to teach students how to mentally compute common tips (10%, 15%, and 20%) that are traditionally left when dining in a restaurant.
Making Change is a lesson designed to teach students how to mentally compute the correct change that should be returned after a purchase. It explains how to compute change mentally and includes two speed drills (called "Changing Speed") to reinforce this concept.