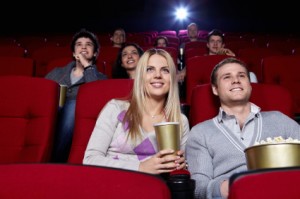 Oliver Knill, from the Department of Mathematics at Harvard University, has compiled a very interesting web page that includes video clips from 155 movies in which mathematics appears.  I enjoyed browsing this list and watching some of the clips of movies that I have seen in the past.  Many, but not all, of the movies can be watched using the full-screen options. 
Note: I believe that the video clips I have chosen to highlight below are classroom safe.  Some of the other clips on the website do include language inappropriate for the classroom.
Here are my favorite clips from movies that I am familiar with in this list: 
(Click the links below to watch each clip.)
In this hilarious clip George Banks (Steve Martin) is infuriated that hot dogs and hot dog buns are not sold in complementary packages at his local supermarket.  Dogs come in packages of 8 and buns in packages of 12.  I know that those of you with math minds out there have already calculated that George would have found contentment if he had just purchased 3 packs of hot dogs and 2 packages of buns.  Come to think of it, I think my textbook has an LCM problem like this in it!
October Sky is one of my favorite movies.  It is the true story of Homer Hickam and his friends, whose pursuit of rocketry leads them to win the national science fair, earn college scholarships, and escape their coal mining town to find a better life.  In this clip Homer works persistently until his equation calculations prove that their rocket did not start the fire that they had been blamed for.
Trevor (Haley Joel Osment) is a student who shares with the class his plan to change the world.  Called "paying it forward," Trevor's plan is to start a chain where each person helps three other people in a significant way.  He helps three, who help 9, who help 27, who help 81 and so on.  This is an excellent clip to use with geometric progressions and exponents.
Landon Carter (Shane West) connects math to real life as he tutors a student on the basketball court.  The scene focuses on the geometric concepts of similar and isosceles triangles.  With the lesson learned, the hoops competition is on!
This is a very funny, stand-alone clip!  Larry (Ben Stiller) and Amelia (Amy Adams)  are trying to uncover the secret at the heart of the pharaoh's tomb.  In the process, they have a fantastic exchange with a group of bobble-head Einsteins!  This clip would go perfectly with a lesson featuring pi.
Jaime Escalante (Edward James Olmos) teaches his students integer concepts in this entertaining video clip.  Stand and Deliver is one of the best movies ever made (maybe one of the only movies ever made) specifically around the topics of mathematics and education.  If you haven't watched this movie, I highly recommend it.
 What About You?
Please take a moment and share any thoughts about the above video clips.  Will you use one or more in your classroom?  Which is your favorite?  Have you seen any other movies that contain great math video clips?
Note: To eliminate SPAM comments your first post will be moderated but after that comments should appear instantly.
Find DigitalLesson.com on Facebook and Twitter.