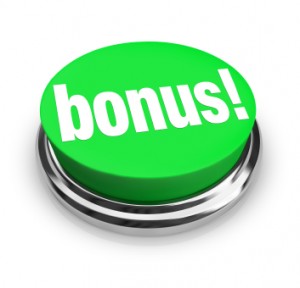 Extra Credit.  It is the great equalizer.  It solves a multitulde of problems.  If a student receives a low score on a math quiz or test, he can just come up and ask me for extra credit and make his problem go away.  Get a D on a math test?  Go write a 10-page paper about a famous mathematician and all will be forgiven.  Memorize the first 100 digits of pi and your D will miraculously become an A.  Who cares if you still don't understand the math?  Extra credit is the answer!
After I returned a recent test I received two emails from parents as well as several inquiries from students wondering what they could do for extra credit, in order to raise their grade.  As you can tell by my sarcastic musings above, I am not a big fan of extra credit.  Extra credit is unnecessary for students who have demonstrated their mastery of a particular set of mathematical skills.  For those who have not mastered these skills, I find it a cheap substitute for the learning which should have taken place.
Extra Credit Happens Before An Assessment
My typical response when asked about extra credit is to share with students the following extra credit formula.  Before the next assessment the student should:
spend additional time preparing for the next quiz or test
correct problems that she has missed on previous quizzes or on daily assignments
ask questions regarding concepts or problems she doesn't understand
listen carefully in class and use class time wisely when beginning assignments
I can pretty much guarantee students that if they do these things before the next assessment, they will receive "extra credit."  By extra credit I mean that they will likely receive more credit as a result of their front-end preparation than they would have if they had utilized the same routine that led to their last assessment result.
Extra Credit That I Offer
Although I am not a proponent of any standard extra credit system which allows students to significantly raise their grades without demonstrating an increased ability in math, I do offer extra credit under the following three circumstances.
I usually put one or two extra credit problems on each quiz or test.  This allows students to make a simple mistake or two and still score well on my assessment.  It also gives me the freedom to include a more challenging problem or two without feeling that these problems will sink the grades of the entire class.
I sometimes offer extra credit if it is taking a current assignment to the next level or offering further practice on a math skill.  For instance, when I teach Coordinate Graphing I assign the first two student worksheets from my What's the Point? assignment.  Students who would like to earn a few extra points have the option of completing a third worksheet and further cementing their coordinate graphing skills.
Finally, if there is a special math event happening at our school, or in my classroom, I may give a few extra credit points for students who participate.  In the past we have celebrated Pi Day on March 14th.  Students have received a few extra credit points for bringing in a pie or sharing interesting facts about pi.  Some have written pi poems or looked up pi jokes online.
Authentic Extra Credit
Relevant, worthwhile extra credit is work which rewards students for extending their learning beyond the basic assignment or for participating in a special event in a way that will benefit their classmates.  Authentic extra credit is not manufactured solely as a means for a student to raise his grade. 
Resist the temptation to "save" students from unsatisfactory progress by providing extra credit supplements to the students.  I have found that an unsatisfactory grade will often provide the necessary motivation for the student to better his preparation and achieve greater results.  Students need to understand the connection between their efforts and the results that they experience.  Too much extra credit prevents this from happening.
Share Your Experience
The DigitalLesson.com community would benefit greatly from your insights into using extra credit in your classroom.  How do you use extra credit?  What can you share with us that might help us to be more effective math teachers?  Please take a moment and comment below.
Note: To eliminate SPAM comments your first post will be moderated but after that comments should appear instantly.
Find DigitalLesson.com on Facebook and Twitter.